Click to play music.
Rockport Highway Bridge on Western KY Parkway
Crossing the Green River.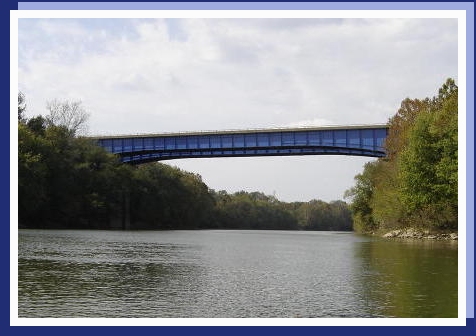 This beautiful bridge crosses the Green River near Rockport. It is located on the Western Kentucky Parkway and crosses the river from about Earl Curtis' old farm to Jackson Hill near Rockport. This bridge looks new, especially if one is viewing from the river. Most of us think of the bridge as being a new bridge. What do you think? Ten years old! Maybe 15!. Can you believe that the bridge was opened for traffic in 1963 and that makes the bridge almost forty-five years old. Hard to believe.

The view is looking downriver with Ohio County on the right side and Muhlenberg County on the left. Behind the photographer is where Brown's Slough empties into the Green River. Just below the bridge and on the left side is a sand bar. Most of the farm land near Earl Curtis's old farm was drained by a ditch that emptied into the river at this point. For as long as I can remember a Sand Bar was made from the silt that was contained in this man-made drainage ditch. The sand bar, in the mid part of the twentieth century, formed out in the river for fifty or sixty feet. I guess that we were on the sand bar enough that grass did not have room to grow as it was just a sandy beach then and a good place to swim. It was a convenient place to fish, but I don't remember having very good luck in this area. A good place to camp also, and most of the young boys of the area spent many a night on the sand bar. That was then. Now, the sand bar is about gone and what is left is covered with weeds. It is probably just a matter of time before all will be gone.

While the sand bar may be gone, the bridge looks like it will be crossing the river for many years to come.
See you......
jrd
---
Stationery and photo by jrd
Click on Sign to reply.