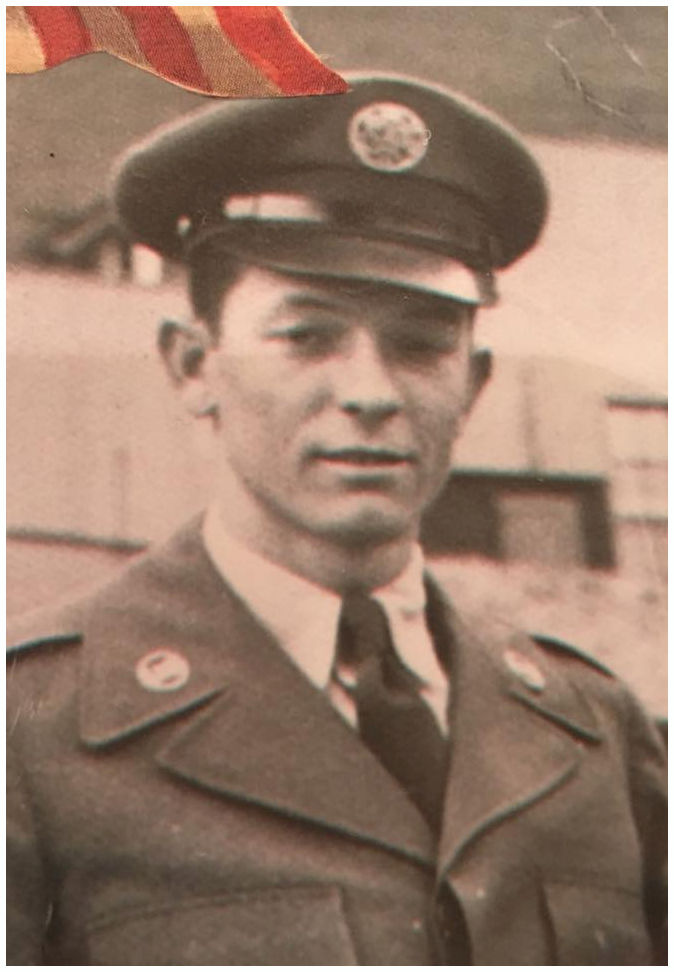 Sam Drake-USAF.
William Sam Drake graduated from Rockport High School in 1948. I am not sure of the career path that he took after graduation, but in that time frame, and without a college education, the job market was slim picking if the picker wanted to stay in this area. There were a lot of small mines in operation in that time frame and with a strong back, underground mining jobs were available. I am most certain that he did not pursue a mining job, although Ken Mine had started a strip mining operation near Echols and a lot of the graduates were working in that career field. Billy Sam's dad had a good job working for the IC Railroad and I don't think that Billy Sam was interested in working for the railroad. Benny Young, in Beaver Dam, was starting a small woodworking company and Sam may have been interested in a job working for Bennie. At least, when Billy Sam served honorably in the Air Force from 1950 until 1954, and was discharged, he did start to work for Mr. Young. Over the years, Sam became Bennie Young's right hand man and worked his way to the top of the chain becoming the log buyer for the company. Sam would continue this work for over fifty years and worked well into his seventies, maybe a few years in his eighties.

I was a Freshman in Rockport High School when Sam joined the Air Force in 1950. Sam's younger brother, Bobby, was a year or so older than I, but we were the best of buddies and ran around with each other. In that time frame, Owen and Dixie Drake, parents of Bobby and Billy, were living on a small farm in Martwick, Ky. It seems that I stayed overnight on the Drake's farm on a regular basis. Farm fun with horses, mules and other farm animals. Then, sometimes Bobby and I got lucky and were able to walk over to what was called "The Camp" and join in with the other local boys for play. "Rough Housing", basketball, "Cowboys and Indians", mumble-peg, and countless other boy games were the norm at "The Camp". In this area, about halfway between Martwick and Nelson, there was a large vacant lot that was kept clean by some of the families. There were a few large families, including the Uzzle's, Lewis', Reddish's and a few more that I have since forgotten their names. When the local boys from nearby Martwick and Nelson found out that a group of us were playing at "The Camp", they would join us. Sometimes, the terms were not that friendly, but for the most part, they just joined us in play. "Town Ball" was our favorite game, a game similar to baseball, but with enough difference where the game could be played with six people or thirty people. Age and experience did not matter as each person had their "Out" and an inning continued until all of the players on one team were out. That was a fun game and we did not have coaches nor umpires. It was just a kid game played by kid rules.

As mentioned earlier, Mr. Drake worked for the Illinois Central Railroad in Central City at the "Roundhouse" Yards. The "Roundhouse" was an unique place for just about any young teenager and Bobby and I were no exception. Owen Drake and his wife would go to Central City most every Saturday. Was not that the norm back then? Mrs. Drake or "Dixie" would drive and sometimes, she would let Bobby and me, along with Mr. Drake, off at the Roundhouse. Sometimes a few workers would be working on Saturday, but for the most part this large building was mostly empty except for steam locomotives. There was this large building, called the "Roundhouse" that contained a large turntable where a train locomotive could enter from a main spur line and be switched to a "Shop Spur" which was a maintenance station. Imagine a very large, round building with locomotives, on separate switch rails, placed in a circle all around the outside rim of the building. In the center of the building was the turntable where a locomotive would enter the building from a main line, enter the turntable, stop, and then be switched to another rail spur where it would proceed to a maintenance station. Of course, after the locomotive was repaired it would back up to the turntable and be switched back to the mail line and then on to active service. This building and all of the locomotives would be a playground for Bobby and me for a period of time until Mr. Drake got his paycheck and socialized with any workers that were in the building. It was a dirty place as one can imagine, but it was a fun place with all of the big locomotives and the tools needed to work on them. Fun times.

Oh me, I did not have much information on Sam Drake's Air Force life and seemed to have gotten off subject. Guess one reason that I got off subject was because of the admiration that Bobby and I had for Billy Sam. In those days, an active military person would come home on leave or a "pass" and they would be wearing their uniform. When they left the military base or camp, they had to be in uniform. Sam just looked so dignified in that uniform and he about convinced me and Bobby to join the Military Service as soon as we became eligible. Many times, when Sam would come home on leave, I would be at the Drake's home and Sam would entertain us and tell us stories, some of the military and of other experiences including his high school years. Guess the "Most Told" story in Sam Drake's repertoire would be one that happened at school on April the first, his senior year. It seems that the senior class was convinced to skip school by a person or persons. They decided to head out to Tucker's Farm for some reason and the principle caught wind of their location. Before the class could do much, the principle had caught them and convinced them to go back to school with or without their leader. It seems that Sam was given credit for being the leader and when he got back to school, he went directly to the principle's office to take his punishment. Of course, there is more to the story, but just the written word would not do justice to the way that it is told by Sam Drake.

I apologize for not having much information on Same Drake's military life. I am sure that he kept his First Sergeant and Captain entertained. If I can obtain more information, I will add it to this page. If reading this write up on Sam Drake and you have more information, please share with me. Thanks.

Thanks Sam for your service to our country.

See you.....
jrd
---
Web Page by jrd on 11/17/17.