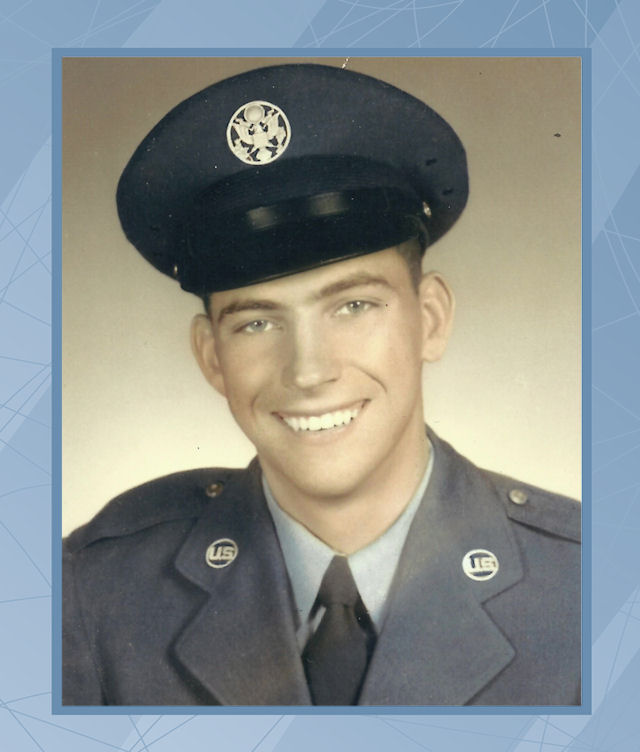 ---
Following was written by Jerry R. Durham. A little long on this subject, but I know this guy well. Sorry about the size.

Guess that it is my turn to write a paragraph or two about my Armed Forces Service experience. It was somewhat of a patriotic duty that help me make a decision to join the Air Force, but being out of work and needing a job was another reason. I had been laid off from the big General Electric Appliance Park in Louisville for several months and tried to make a few dollars by fishing. Charlie Sheffield had promised to buy all of the fish that I caught and he did, but the profit was not quite enough to make car payments. I had met all of the requirements to enter G E's Apprentice Tool and Die Maker Program and was working as a Refrigerator Repairman and waiting on a new Apprentice Class to start when I got laid off. I was hoping to be called back to work and to start the Apprentice Program, but good jobs were difficult to find in the late fifties. After a few months, I volunteered for service in the Air Force and never looked back. G. E. did call me back about a year later, but it was to late by now.

In February of 1958, I was shipped to Lackland Air Force Base to start basic training. My aptitude test scores were high in Mathematics and Electronics and I entered an accelerated Basic Training program and a month later, I was sent to Keesler Air Force Base in Biloxi, Mississippi to start an eleven month school for Radar Maintenance. The school kept me busy, but I found time to join the Squadron's Basketball Team. We played other base teams as well as other Military Teams. Another classmate and I were the only two students on the team and attending classes was a higher priority than playing basketball. None-the-less, we had a good team and won the Base Championship. In February of 1959, I graduated and was given a level 1 Ground Control Approach Radar Maintenance rating. I was asked if I would volunteer to stay at Keesler AFB and enter the "Instructors School Training Program" and become an instructor for the School. I think that the First Sergeant/Basketball Coach had in mind another big basketball trophy. Anyway, I was tired of class work and opted to head out in the real world to see what other bases were like. My new assignment was Perrin Air Force Base in West Texas and I headed to Lubbock, Texas to be a Ground Control Approach Radar Repairman.

My Air Force life in West Texas was enjoyable and I made level 3, Radar Repairman. I had tried out and made the base basketball team. The competition at the base level was near college level. We played most of the junior colleges in the area as well as other military basketball teams. Our team consisted mostly of pilots, some that played for the Air Force Academy. Each military base had what they called a "Base Plane" that could be used for about any type of mission. The "Base Plane" at Perrin AFB was a C-47. It was an old cargo plane that was used in World War II to transport about anything and especially the paratroopers. If you have ever seen a movie about paratroopers jumping out of a two engine plane into a drop zone, most likely, it was a C-47. Most of the pilots were certified to fly the "Base Plane" and could "Check It Out" for about any type of official trip. This allowed the pilots to get some experience in staying certified in a two engine, prop plane. Thus, our basketball team flew to most of the bases and Junior colleges within two or three hundred miles of Lubbock. In most cases, we stayed overnight on base or on campus and flew back the next day. I was attending Texas Technological College in Lubbock and had made level 5 Radar Technician when an opening occurred for a Radar Technician in East Texas at Sherman, Texas and just forty miles East of Dallas. Not only that, it was near Lake Texoma and I jumped at the chance.

Reese Air Force Base became my new duty station and I made level 7 Radar Technician. I had made sergeant and started drawing a new bonus pay that was set up to keep the Airman, in the most critical fields, from leaving the Air Force. It was a new idea and I was one of the first in the Air Force to draw this pay and made an extra thirty dollars a month drawing what was called Pro-Pay 1. Pro-Pay 2 was within reach, but an Airman had to be on their second hitch to draw this pay. The fishing and hunting was great in this area and I loved my work, but missed Rockport. I had made up my mind to get out of the service when my four year tour was up, and was almost there when Russia decided to build some missile bases in Cuba. President Kennedy and Nikita Khrushchev were almost at war and I received an official letter from my commander stating that I was to be involuntary extended for a period of one year due to the Cuban Missile Crisis. I had married Doris Durbin in December of 1960 and now, I had over a year to serve. After we married, she had intentions of staying in Rockport until I got out of service and now, a new decision was made for her to join me in Denison, Texas. Several months later, Russia was forced to withdraw their missiles from Cuba and I received another letter wanting me to re-enlist, but giving me the option to get out if I desired. I desired and was discharged on June 6, 1962.

It was a fun and enjoyable four years and four months, but by now I was married and had a son. It was time to return to Ohio County and settle down in the "Garden Spot Of The World". End of my Military history.

Thanks for looking.
See you...