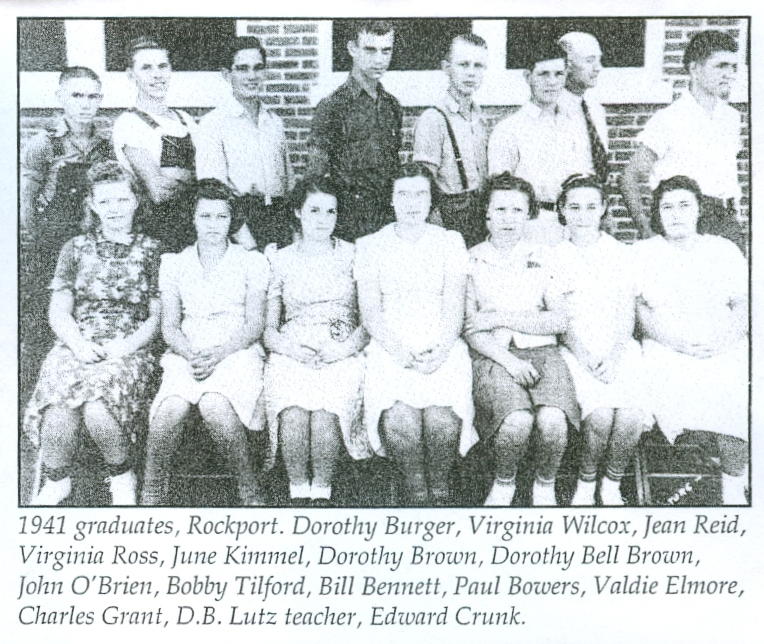 There were twelve Rockport High School graduates in 1941, Billy Bennett, Dorothy Bell Brown, Dorothy L. Brown, Dorothy Burger, Lee Curtis, Charles B. Grant, Jesse Hoskins, Owen Kimmel, John O'Brien, Jean Reid, Virginia Ross, and Virginia Wilcox. This Rockport High School Graduating Class of 1941 picked a good time to graduate, but I will bet that they thought that times were great and they were ready to make their mark on the world. A war was looming in Europe and in the South Pacific and these newly graduates must have know that they would soon be in the Armed Forces or in case of the girls, their boyfriends would be serving. A young graduate does not ponder on these type thoughts or conditions. They just pick themselves up by the bootstraps and "get-er-done". Not many of these graduates would continue with their formal education. Most would either serve in the military or get a job. Some would have to leave the area to seek fame and fortune in other parts of the country. Not the best of conditions to look forward to, but these graduates did not know better. They would go on to become known as a part of "The Great Generation". Their generation is now considered as the "Best Generation" ever. From this class and other similar classes of graduates, in this time frame, a World war would be won and a period of peace and prosperity would continue for several more years. Growth and advancement of mankind would avail like no other time in modern history. Progress in medicine, machinery, health, education, science, technology, etc., would advance at a faster pace than would ever be seen again. "Don't Feel Sorry For Us" may not have been their motto, but this generation certainly made a mark on the world that no other generation has made since.

Looking over this group, I find that I actually did not know very many of the group. Oh, I had seen and probably talked to the teacher, D. B. Lutz. I have heard of most of the others, but I did not know and do not know much about their life on this earth. When one gets in a corner and does not know a way out, the only thing to do is to try what one knows or to try what one can do. This generation would not sit in that corner. They would be trying to get out. Following their probable lead, I will tell you more than I know about each student and if you know more than has been written on any, or have a picture of any, please feel free to share.

---

Dorothy Burger must have graduated and moved on to some other area. I do not remember Dorothy. If your memory of Dorothy is better than mine, please feel free to share the knowledge that you may harbor. Thanks in advance.

---

Virginia Wilcox-Ah, at least I remember the name. She was a sister to Bert Neal Wilcox. Again, I am coming up empty on the information department and will be depending on some of you to supply some pertinent information.

---

Jean Reid was the daughter of Mr. and Mrs. Bert Reid, lifelong residents of Rockport. She graduated from Rockport in 1941 and married William Reynolds soon after graduation. William was from Beaver Dam and was a businessman. Jean's outside working career was with Kentucky Utilities, which came second to her family working career. Mr. and Mrs. Reynolds made their home in Beaver Dam and raised a family of two children. For a picture and a more complete write-up, please click on the following link.



Jean Reid Reynolds



---

Virginia Ross is a very familiar name and one person with that name graduated from Rockport High School in the year of 1941. I think that Virginia Ross went to work for the General Electric Tube Plant in Owensboro after graduation. In that time frame of the mid forties, her family moved to Beaver Dam. Virginia and her sister would continue to live in that house after their parents passed away. Virginia stayed with General Electric until she retired and she continues to make her home in Beaver Dam.

---

June Kimmel is from a family of Kimmel's that lived in the Ceralvo Road area.

---

Dorothy Brown is a 1941 Rockport High School Graduate that I should remember and should be able to write a paragraph about, but I just can not put a face with the name. There were Brown's living in Rockport, the Echols area, and the Highway 62, East area and I knew Brown families in each of these areas. Dorothy Brown, I am told, married a preacher, and they have made their home in the Hardinsburg, Kentucky area.

---

Dorothy Bell Brown graduated from Rockport High School in 1941 and married Raymond Scott soon after she got out of high school. They made their home in Punkin Ridge or on Highway 1245 just past where Glen and Coleen Stewart live today. Dorothy and Raymond did not have any children. She was the brother of Hildred Brown.

---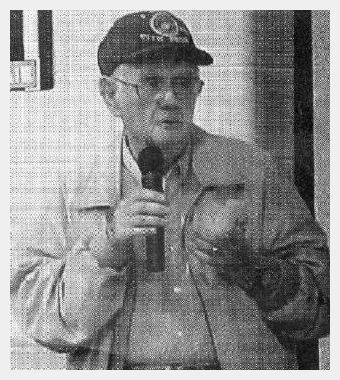 John O'Brien



John O'Brien was a 1941 Rockport High School Graduate that stayed in the local area after graduation. Except for the time that he spent in the military, John made his home in Ohio County. He was drafted into the Army and served his country in World War II. After his stint in the Army, he returned to the Rockport area. When he returned, he brought a new wife with him. John's new wife, Bernice, was not from Kentucky and she must have wondered many times what she was doing in this area. She soon adapted and became an asset to Ohio County and especially to the school system. Bernice started working for General Electric, in Owensboro, and eventually retired from the old vacuum tube manufacturing plant. John's work career is not quite as simple as Bernice's. John wore many work hats and I am not aware of the many places that he worked. I think that he worked for the Railroad for awhile, maybe the mines also. I believe that he tried sales for a period of time and was an insurance agent. Mr. and Mrs. John O'Brien raised a family of two, one boy and one girl. I think that they also live in the local area. Retirement now is a home on the Livermore Road.

John was born in Grayson County and moved with his family to Rockport, probably in the mid thirties. His dad was a "Railroader", and the family had to move, if and when his job called for work at another location. The family was finally able to purchase a home in Rockport and that house is still in the O'Brien family. It was located next to the Rockport High School and the large O'Brien family only had a short walk to school. Some of the O'Brien family are still in the Rockport area; the school is not.

Obituary of John O'Brien from Danks Funeral Home: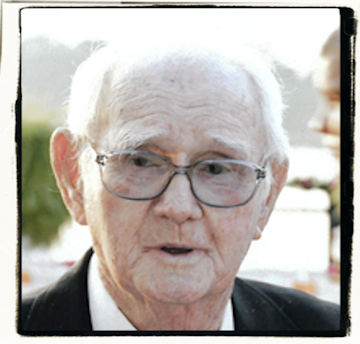 John Louis O'Brien, SR. entered into rest on Monday, January 30, 2017 at Baptist Health of Madisonville with family at his side to join Bernie his loving wife of nearly 70 years in heaven. He was born in Leitchfield, KY on November 11, 1922 to the late Clarence Edward and Margaret Hart O'Brien. Mr. O'Brien was a US Marine Corp Veteran where he served as gunnerysergeant during WWII, receiving a purple heart and numerous accommodations. He was retired from Lincoln Income Life Insurance Company in Central City, was former CO Owner/Operator of Ohio Valley Tire in Beaver Dam, a member of No Creek United Methodist Church, member of Disabled Veterans of America and also a member of the Veterans Quartet for over 20 years. Mr. O'Brien loved telling stories to the younger generation about real war stories and as for the ones that new him well his love for hunting and fishing and the care and wellbeing of animals was remarkable. Mr. O'Brien was a proud resident of Western Kentucky Veterans Center in Hanson, KY.

Aside from his parents he was preceded in death by his wife, Bernice Elaine O'Brien, his step-mom, Ruby Brown O'Brien, five brothers, Thomas O'Brien, Wendell O'Brien, Dale O'Brien, Donald O'Brien, and Billy O'Brien, and one sister, Sue Fulkerson. Survivors include one daughter, Lynn Hart of Hartford, one son, John L. O'Brien, JR and his wife Bonnie of Bowling Green, two brothers, Harold O'Brien of Rockport, KY and Larry Neil O'Brien of Nelson Creek, three sisters, Jane Rhule of Ingleside, TX, Doris Salmon of Louisville, and Aileen Maugherman of Ellenton, FL. Mr. O'Brien was blessed with four grandchildren, Chad Hart and his wife, Kristen of Owensboro, Brock Hart of Hartford, Gregory Hart, II and his wife, Jessica of Brandenburg, KY, and Lacie Bledsoe and her husband, Michael of Keene, TX and seven great grandchildren, Everly Morgan Hart, and one great grandchild on the way, Brett Hart, Clayton Hart, Katie Hart, Emma Bledsoe, and Ethan Bledsoe.

Funeral services will be held at 1:00PM, Saturday, February 4, 2017 at Miller-Schapmire Funeral Home, with Bro. Tony St. Clair officiating. Burial will be in Carson Cemetery near Hartford. Friends are welcome to visit with the family of John Louis O'Brien, SR. from 3-7PM, Friday and 9 AM until time of service Saturday at the funeral home. Military honors will be performed by the Ohio County Honor Guard.

Share your messages of condolence with the family of John Louis O'Brien, SR. by visiting www.MillerSchapmire.com

---

Bobby Tilford is another Rockport High School student that I know very little about. When Rockport was first settled, there were probably some Tilford's living in the settlement. Although there are no Tilford's living in Rockport, at present, the Tilford name is one that goes back years in the history of Rockport. I am sure that Bobby is just part of that Tilford ancestry. Bobby Tilford played basketball for Rockport. Other than that, I will wait on others to supply information for this paragraph.

---

Bill Bennett was another 1941 Rockport High School Graduate that played basketball on the high school team. Other than that, I am at a loss to write anything about him. Any information about Bill would be used and appreciated.

---

Paul Bowers was a student from Rockport High School in 1941 and must have left the area. I can remember some Bowers', but do not remember Paul.

---

Valdie Elmore, was a 1941 Rockport High School Student, and a brother to Hildred Elmore. The Elmore family home place was just off Highway 62 at the bottom of Graveyard Hill. It was on the West side of Graveyard Hill and below Midway Road. Valdie moved to Louisville after graduation and became a policeman for the City of Louisville. Valdie died in March of 2008.

---

Charles Grant graduated from Rockport High School in 1941 and played basketball for the Rockport High School Tigers. I think that Charles was the younger brother of Fred Grant. I am short on information here and would update if any info becomes available.

Obituary Charles B. Grant:
GRANT, CHARLES B., 91, passed away December 31, 2012.

He was a retired employee of General Electric, a member of Faith Presbyterian Church, and an Army Air Corps veteran of World War II.

He was preceded in death by his wife, Ruth "Dean" Grant; grandson, Michael Biel; brother, Fred Grant and his wife, Maureen.

Survivors include his daughter, Rebecca "Becky" Biel and her husband, Robert; grandchildren, Marty (Cheryl) and Matt (Jennifer) Biel and Adam Weaver (Michaela); and great-grandchildren, Taylor, Samantha, Devin, Corey, and one on the way.

Funeral services will be 1 p.m. Saturday at Owen Funeral Home, 5317 Dixie Highway with burial in Bethany Cemetery. Visitation will be 4 - 8 p.m. Friday.

In lieu of flowers, expressions of sympathy may be made to his church.

---

D. B. Lutz, the teacher, came from Hopkins County in 1937 to teach high school. He stayed about ten years at Rockport and made School Principle in a short period of time. He also continued to teach. From Rockport, he transferred to McHenry where he met his wife-to-be. D. B. Lutz married Mae Ashby and they made their home in McHenry. There were no children from this marriage.

---

Edward "Ed" Crunk was a 1941 Senior class member. He was also on the Rockport High School Basketball Team. The 1941 basketball team must have been a good team, as these 1941 students had been playing together for several years. Ed probably moved on to greener pastures as I know very little about his whereabouts.

---

Not pictured in the 1941 Class photo above are Lee Curtis, Jesse Hoskins, and Owen Kimmel. They were also members of this 1941 Rockport High School Class. They received their diplomas and moved on, probably to the Army. I am not aware of the whereabouts of Jesse Hoskins nor Owen Kimmel.

---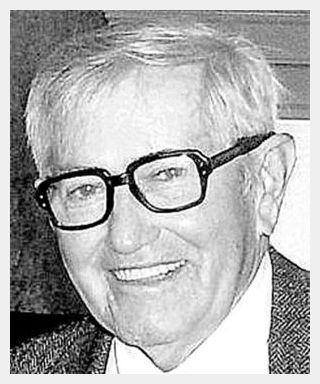 Lee Curtis
After graduation from RHS in 1941 Lee Curtis became a member of the Army Air Corps during World War II and entered Officer's Pilot Training School. He received his Pilot Wings in 1944 after graduating as a second lieutenant. During the war he became a triple-rated pilot. After the war, he started flying the big cargo planes, the C-97s and the C-124s and worked his way up the rank of a lieutenant colonel. During the "Cold War" he became an aircraft commander on the B-24 bomber and served as aircraft commander of the Strategic Air Command. He logged more than 4,000 hours on the big cargo planes and before his retirement, he had logger more than 7,500 hours of flying time. He served in the Air Force Reserve in Owensboro and retired from the Tennessee Air National Guard in 1972.

During Lee's working career, he wore many hats. After his World War II service, he served in the Air National Guard. He loved farming and at one time had farms near the Ceralvo area and the Echols area. He tried truck farming as well as livestock farming and always had an old truck for various transportation needs. Lee just seemed to be the happiest when he was behind the wheel of an old tractor or an old truck. Before his retirement in 2014 Lee owned Ohio County Recycling and Auto Crushing.

Lee's first marriage produced three children, two of which are living in Ohio. There were four step-children from his second marriage and they are spread out through the southern states. With grandchildren and great-grandchildren, a Curtis get-together consisted of a large gathering.

Obituary from Owensboro Messenger-Inquirer. Basil Lee Curtis:
Basil Lee Curtis, 91, of Owensboro died Monday, March 2, 2015, in Owensboro. He was born April 1, 1923, in Rockport, Kentucky, to the late Arvin "Buck" and Abba Merle Miller Curtis. He was a 1941 graduate of Rockport High School. He was an Army/Air Force veteran of World War II, who carried the atomic bomb and later the hydrogen bomb and was a triple-rated fighter pilot. In 1944, he graduated as a second lieutenant and received his Air Force wings. He made aircraft commander on the B-24 bomber and served as aircraft commander of the Strategic Air Command. He logged more than 4,000 flying hours in C-97s and C-124s and was commissioned as lieutenant colonel. At the end of his career, he was very proud that he had logged 7,500 hours of flying time. He served with the Owensboro Air Force Reserve. He retired from the Tennessee Air National Guard in 1972.

He was the owner of Ohio County Recycling and Auto Crushing until his retirement in December 2014. He was a lifetime member of AMVETS of Owensboro and VFW of Ohio County. He also was preceded in death by a son, Martin Lee Curtis; and sisters Brent Curtis Timperman and Gay Curtis Spicer.

He is survived by his wife of 31 years, Wanda Curtis; his children, Carolyn Curtis of Guy Falls, Ohio, Lonnie Curtis (Sophie) of Akron, Ohio, Lisa Day (Mike) of Belton, Kelly Leavens (John) of Clearwater, Florida, Mary Lee Burkett (David) of Lebanon, Tennessee, and Barbara Davidson (Tommy) of Dunmor; his daughter-in-law, Diana Curtis of Akron; 15 grandchildren; 13 great-grandchildren; stepchildren Gary Whittaker (Susie), David Whittaker, and Vicky Whittaker Bowlds (Tony), all of Owensboro; eight stepgrandchildren; 16 stepgreat-grandchildren; and a sister, Barbara Curtis Hansford of Akron.

Services are 11 a.m. Friday at the Chapel of James H. Davis Funeral Home and Crematory in Owensboro. Burial is in Elmwood Cemetery, Owensboro. Visitation is from 4 to 8 p.m. Thursday and after 10 a.m. Friday at the funeral home. Messages of condolence may be made at davisfuneralhome.com.


---
A quick story on Lee Curtis before I finish this class history. Mr. and Mrs. Lee Curtis were living in the house next to the old Iler House in 1950. The house, located on Old Main Street, is now owned by Mr. and Mrs. Billy Stevens. Lee had a farm in the Ceralvo area and had a large crop of pickle cucumbers ready to be harvested. He came up with the idea to use child labor to gather the cucumbers and got the word out to all the local children that he would pick up any and all "Want-To-Be" young workers and transport them to the cucumber field. He would pay a certain amount for each "Grass Sack" picked, and it was probably a quarter. About seven o'clock on the day of the pick, Lee came down "Bob Swain" Hill in a one ton stake-bed truck and parked it near the old hotel grounds. Probably twenty kids boarded the truck. If you could get into the truck you were hired. I think we were all told to bring a sack lunch and Lee would supply the drinks. To the cucumber field we went and by the time that we arrived the cukes were ready to be picked. Lee explained the conditions and the kids hit the field. By lunch time, a few of the kids were exhausted and decided to stay in the barn area after lunch. The large cucumbers were useless as pickles, but most of us would slip a large "Cuke" or two in our sack. It did not do any good as each full sack was checked and the large ones were culled. Some of us may have made a dollar that day, two dollars at best and at the end of the day, we went to Beaver Dam to offload and sell the small cucumbers to the Beaver Dam Pickle Factory. Lee got his money and he paid us off just about as quick as he could turn around. There was enough cucumbers left in the field for another picking and Lee told us he would be in Rockport the next day and we would do it all over. The next day, there were only about ten kids at the pick-up point and we continued just like the day before. I guess that I learned, from that cucumber farm, that there were many methods of making money, but picking cucumbers was not very much fun. Can you imagine in this day and time, twenty children, as young as twelve, going to a farm field to pick cucumbers and not only that, but being transported in the back of a one-ton stake-bed truck. Times have certainly changed. Not necessary for the better. Hum.
---
When this class graduated in 1941, a popular song was "The Anniversary Waltz". It should be playing in the background. I can remember the tune, but do not remember any of the artist that recorded the old waltz. Music certainly evolves, and for the most part, for the worse. Just look at this junk being played now! In the twenties, the music tended to be loud and fast to fit the "Swing Era". By the late thirties, it had toned down to a much slower pace, but now the war was looming and the early forties had a lot of music about the war and of the soldiers. By the time that we picked those cucumbers for Lee Curtis, the music was starting to evolve into the "Rock and Roll" era. I am sure that the youngsters of the seventies and eighties thought that their music was better than that of the fifties and sixties. It probably was to them. In the fifties and sixties, the juke boxes were loaded with "Easy Listening", "Rock and Roll" and "Country and Western" categories. Guess that I liked all three types. Now, and for the last two decades, the music of the era seems to be "Acid Rock" and "Rap". Oh, there is a little "Country" music thrown in and they are trying to cross over and fill the gap left when "Rock and Roll" and "Easy Listening" came to an end. Guess that is one reason that I don't listen to music on the radio, nor have I bought a record (What is that?), tape or CD in the past twenty years. I have "Burned" a few CD's but very seldom listen. Oh well, this paragraph and a buck and a half may get you a cup of coffee in some places.
---

Thanks for looking and thanks for checking in.

See you......
jrd