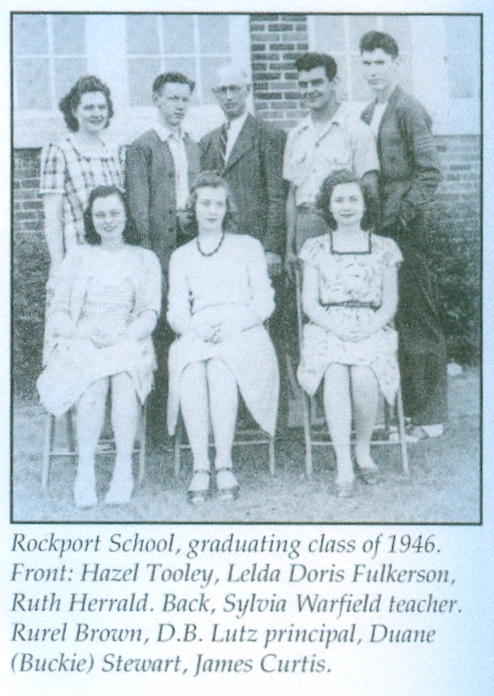 In 1946, a few young people from the Rockport area graduated from Rockport High School. The big war had been over for about a year and it would be about five years of peace before another war. No more songs about war. The new tunes were lively tunes and happy songs. "There is no business like show business" was popular in 1946. Click in block, top-left to play a version of that tune.
In 1946 D. B. Lutz was the principal at Rockport High School and Sylvia Warfield was a teacher and the Senior Class Sponsor. Mr. Lutz had been at Rockport for about ten years and would soon be moving on to another school. I can vaguely remember Mr. Lutz, but can not remember Sylvia Warfield being a teacher.
Hazel Tooley.
After graduation, Hazel Tooley attended Western Kentucky Teacher's College and returned to Rockport to teach for a few years. She married Jim Rigsby, a local Presbyterian preacher, and they moved to Tennessee. To view a more complete write-up on Hazel, click on the following link.
Hazel Tooley Rigsby.
--------------------
Lelia Fulkerson.
Lelia Doris Fulkerson graduated and moved from the Rockport Area before I was old enough to remember much of anything. Several years after graduation, she married James R. Barnard. They moved to Louisville and became successful in the building contracting business. To see more about Lelia, please click on the following link.
Lelia Fulkerson Barnard
--------------------
Ruth Herald.
Ruth Herrald was a 1946 Rockport High School graduate. I do not have any information about her. I will update this page if and when I receive any pertinent information about Ruth.
Rural Brown.
Rural Brown graduated from Rockport in 1946 and his desire was to have a small place of his own in the Echols area. He worked for that small farm for several years. When Peabody Coal Company opened Ken Mine in the Echols area, Rural was able to join their team. Rural continued working for Peabody Coal company until retirement. He bought that small farm in Beaver Dam and raised a family. He and his wife continue to stay busy with farm chores, although, now it is a retirement farm.
OBITUARY-Danks Funeral Home.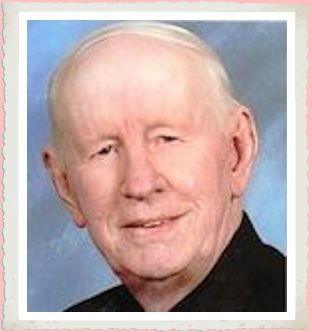 Rurel E. Brown, 87 of Beaver Dam, passed away, Monday, August 31, 2015 at Clearvista Lake Health Campus in Indianapolis. He was born December 1, 1927 in Echols to the late Clifford D. and Nora Alice Chinn Brown. Rurel was a member of Beaver Dam Baptist Church where he served as a deacon for many years, a US Army Veteran of the Korean War, and retired from Peabody Coal Company where he worked at Ken Surface Mine.

Besides his parents he was preceded in death by his brother, Paul Brown.

Survivors include his wife of 59 years, Kathryn Brown of Beaver Dam, one daughter, Brenda Lynette (John) St. Myers of Indianapolis, IN and one sister, Ollie Rhodes of Owensboro.

Funeral service will be held at 1:00PM, Friday, September 4, 2015 at William L. Danks Funeral Home in Beaver Dam, with Dr. Glenn Armstrong officiating. Burial will be in Sunnyside Cemetery in Beaver Dam. Visitation will be from 4-8PM, Thursday and 9AM until time of service Friday at the funeral home. Military Honors will be performed by Wesley Phelps Honor Guard.
---
Bucky Stewart.
Duane "Buckie" Stewart was a member of the Rockport Graduating Class of 1946. Buckie became a construction electrician and spent a lot of time living in other states and on the road. He married Margie Elder and they purchased a small farm in the Echols community to raise their family.

Duane "Buckie" Stewart, 63, of Echols died Thursday, September 13, 1990 at the Ohio County Hospital, Hartford. He was born in Ohio Country, was an electrician, and was a member of Pond Run Baptist Church near Echols. Survivors include his wife, Majorie Stewart; a son, Tracy Stewart of Beaver Dam; three daughters, Mrs. Patty Dortch and Mrs. Betsy Thye, both of Beaver Dam, and Mrs. Lisa Warren of Echols; two grandchildren; and two brothers, Glen Stewart and James L. Stewart, both of Rockport.

Services were at 2 p.m. Saturday at the William L. Danks Funeral Home, Beaver Dam, with burial in Pond Run Cemetery.

Click on the following URL to see more about Buckie.
Duane "Buckie" Stewart.
--------------------
James E. Curtis.
James E. Curtis was another member of the 1946 graduating class of Rockport High School. After graduation, he attended Western Kentucky Teacher's College and taught school at Rockport while he was working on his teaching degree. He was also Rockport's basketball coach for a short period of time. When Peabody Coal Company opened the large strip mine in Muhlenberg County and was building the world's largest shovel to strip the coal, James Eddie decided to go to work at this new mine. A picture and a more complete write-up on James Eddie can be found using the following link.
OBITUARY-Danks Funeral Home.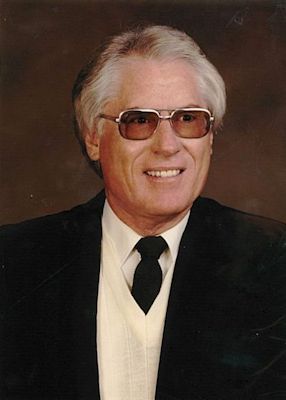 James Edward Curtis was born on Feb. 1, 1928 in Echols, KY, to the late William Edward and Dorcie Ree Curtis. He graduated from Rockport High School in 1946, lettering four years in both Basketball and Tennis. The day following Graduation, he left for a two year stint in the Navy, being stationed in Corpus Christi, Texas. Upon return, he attended Western Kentucky College for three and one-half years. Following this, he taught school and coached Basketball at Rockport High. He served in the Air Force Reserve for 35 years, attaining the rank of Major.

In the mid 50's, he was employed by Peabody Coal Company at Ken Mine as Weighmaster. In the early 60's, he and Dick Geissel pioneered the recruiting, opening, growth and success of Sinclair Mine. He was employed by the Federal Government for twenty-five years, working on the Washington D.C. Federal Mine Inspecting staff for a majority of those years. He worked for A.K. Steele and Green Coal Company as Safety Director. He worked in sales at Tichenor Cheverolet in Hartford. He served as Deacon and Treasurer of Rockport Baptist Church, and in the early 80's, passionately spearheaded the rebuilding of the church. James was a loyal fan of the University of Kentucky Wildcats and St. Louis Cardinals.

Departing from this life on April 18, 2015, James was preceded in death by fourteen brothers and sisters, including three sets of twins; William O., George Earl, Ercie Jones, Hulet, Mitchell, Cecil, Vernie and Ernie, Myrtle and Pirtle, Ella and Nell Kennedy, Dean Grant, and Kenneth Curtis.

Survivors include his wife, Bette Carole, sons, John Edward of Denver, Colorado, Mark Anthony and Bryan Timothy of Rockport and daughter Kathryn of Beaver Dam. One granddaughter, Emily-Kathryn Taylor (Wade) of Bowling Green, and one great-granddaughter, Eliza Caroline Taylor.

Funeral Services are 4:00 P.M. Wednesday at Rockport Baptist Church, with visitation at 2:00 at the church. Also, visitation Tuesday at William L. Danks Funeral Home in Beaver Dam from 4:00-8:00 p.m. Charles Brownd officiating.

Burial in Echols Cemetery with full Military Honors.
---
If you are reading this note, thanks for staying with the web page. Without anyone looking and reading, my time spent on the creation of this and other web pages would be for naught.
Great Looking Bunch Of Students!!!    :-))
Stat by jrd on 11/18/07.    :-)))
No sad faces today, only smiley ones!!!    :-)

See you...............

~jrd~