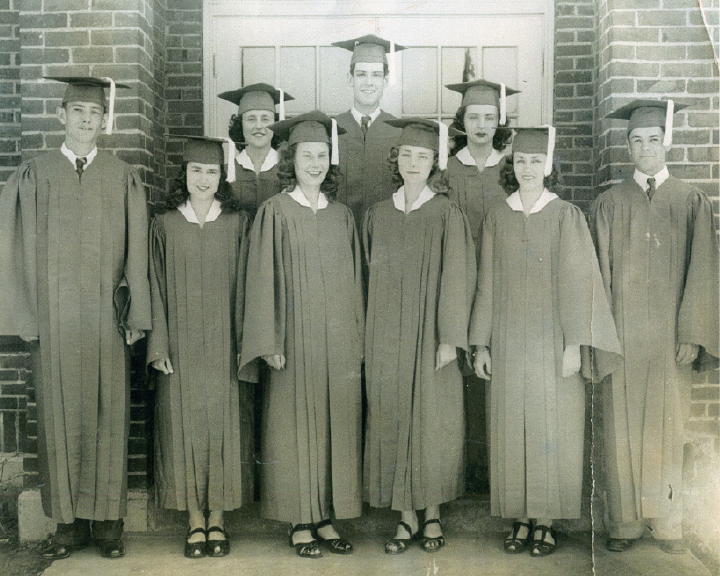 1947 Rockport High School Graduates.

Back Row-Left to Right: Anona Kimmel (Bell), Nobel Dale Brown, Betty Tooley (Curtis).
Front Row-Left to Right: Claud Snodgrass Jr., Jane O'Brien (Rhule), Marjorie Elder (Stewart), Coleen Hoskins (Stewart),Gladys Lou Robinson (Reid), and Glen Stewart.
---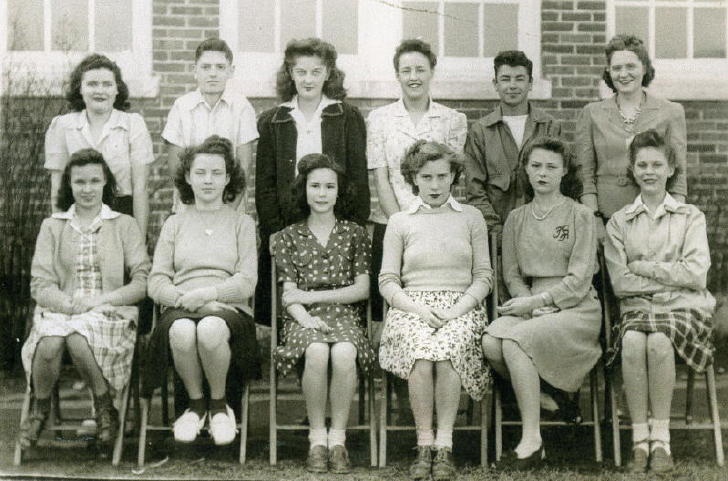 RHS 1947 Graduates Pictured In The Tenth Grade.

Back Row-Left to Right: Benton, Nobel Brown, Audrey Maddox, Anona Mae Kimmel, Glen Stewart, Mrs. Burnett-Teacher.

Seated-Left To Right: Gladys Lou Robinson, Betty Tooley, Jane O'Brien, Martha Raines, Coleen Hoskins, and Joyce Glasscock.

Nice looking bunch of Rockport Graduates. After graduation from High School, all of these students went on to become responsible adults and all help make this a better world. In 1947, a high school education was a step above the norm. It was a very good start in getting into the job market. Some of this class continued their formal education and all continued to become better educated. Lead on class of 1947.......

Claude Snodgrass must have left the Rockport area soon after graduation. I can remember some Snodgrass' in the time frame when I was in high school and have heard of Claude. I just do not remember much about him. Again, if any one reading this paragraph will send me some info on Claude, I will be glad to update this web page. Thanks in advance.....

Audrey Maddox was actually a 1948 Rockport High School Graduate. She started her senior year in 1947 and for whatever reason, was not able to complete her senior year in 1947. To see more on Audrey Maddox, click on the following link.



Audrey Maddox



Nobel Brown graduated from Rockport High School in 1947. He continued with his formal education and earned a Doctorate Degree. I am not aware of his chosen career field and will update this page if information becomes available. Dr. Brown gave the invocation at the 2006 Rockport High School Reunion. For a recent picture of Dr. Nobel Brown, please click on the following link.



Nobel Brown



Glen Stewart tried several work trades after his graduation from Rockport High School in 1947. He even tried a short stint in the Navy. He worked as a construction electrician and traveled and lived in different parts of the country. He finally decided to give Peabody Coal Company a try and became an electrician for River Queen Mine in 1966. For a more complete write-up and a recent picture of Glen, please click on the following link.



Glen Stewart



Bette Tooley just wanted a small house in the Rockport Area after graduation from High School in 1947. She obtained her teaching degree from Western Kentucky University and started her teaching career at Rockport. She married James E. Curtis and they built that nice house that they both wanted in Rockport, Kentucky. For a current picture and more of a write-up on Bette, please click on the following link.



Bette Tooley Curtis



Corbet Farris came to Rockport High School in 1944 as a high school teacher. He taught high school for about ten years and was the senior class sponsor in 1947. During his tenure at Rockport, he taught at different levels from the seventh grade to the twelfth grade.

Coleen Hoskins knew that she wanted to be a school teacher by the time that she graduated from Rockport High School in 1947. She also knew that she wanted to be married to Glen Stewart. She combined both. Coleen enrolled at Western Kentucky Teacher's College to pursue a degree in Elementary Education and married Glen. She taught in some of the one-room schools while seeking her degree.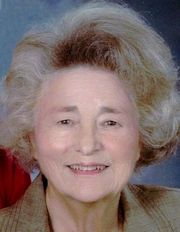 Obituary from the Danks' Funeral Home on 4/19/17.

Coleen M. Hoskins Stewart, 88, of Rockport, Kentucky went to be with her Lord and Savior on Saturday, April 15, 2017, at Beaver Dam Nursing and Rehab. She was born on October 28, 1928, in Akron, Ohio to the late Roy and Myrtle Render Hoskins. She married her husband of 67 years, Glen Stewart, in November 1947 at West Providence Church. Mrs. Stewart attended Rockport School and graduated in the class of 1948 as valedictorian. She was an honor student throughout her high school years and a cheerleader for the basketball team. Coleen furthered her education at Western State University and received her teacher's certificate. Mrs. Stewart began her teaching career in a one room school called "Little Bend" in Centertown, Kentucky. She also taught in Muhlenberg County at "Summer Pride", then at Rockport School. After 7 years at Rockport School she began teaching at Western Elementary where she eventually retired. She belonged to the teacher's sorority, Alpha Delta Kappa, and was Pi Chapter President. She enjoyed helping other students, even after retirement, to further their education. She was recognized many times over the years of her career as an excellent educator. Mrs. Stewart was a member of Rockport Baptist Church where she enjoyed playing the piano, teaching Sunday school and VBS. She spent many hours dedicating her time to the church and the association.

Mrs. Stewart was preceded in death by her parents; husband, Glen Stewart; one brother, Gerald Hoskins; and one brother-in-law, John A. Westerfield.

Survivors include her children, Joel (Marcia) Stewart of Echols and Leah Michelle Stewart of Beaver Dam; two grandchildren, Justin Stewart and Allison Stewart; one great-grandson, Casen Stewart; one brother, Donnie Hoskins of Beaver Dam; one sister, Marlene Westerfield of Lewisport; one sister-in-law, Rhonda Hoskins Travis and several nieces and nephews.

Funeral services will be held at 1:00 P.M. Wednesday, April 19, 2017, at William L. Danks Funeral Home in Beaver Dam, Kentucky with Rev. Charles Brownd officiating. Burial will follow in Pond Run Cemetery in Echols, Kentucky. Friends may visit with Mrs. Stewart's family from 5:00 P.M. until 8:00 P.M. Tuesday and 11:00 A.M. until the time of the service Wednesday at the funeral home.

Expressions of sympathy may take the form of contributions to Rockport Baptist Church, P.O. Box 56, Rockport, Kentucky 42369. Envelopes will be available at the funeral home.




For more information and a current picture of Coleen, please click on the following link.



Coleen Hoskins Stewart



Gladys Robinson married James B. Reid soon after graduating from Rockport High School in 1947. The military draft was in effect and her new husband, a Rockport High School Graduate a few years earlier, was called to serve his country. James "Buddy" Reid and Gladys tried several business ventures before Buddy went to work for Peabody Coal. The couple lived in Rockport for several years before deciding to move to Beaver Dam. After the move to Beaver Dam, Gladys started working for BB&S Florist and continued with them for a period of over thirty years.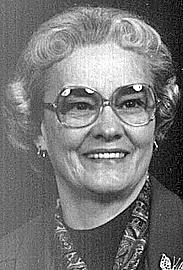 Obituary from the Owensboro Messenger-Inquirer on 8/12/09.


BEAVER DAM -- Gladys Robinson Reid, 80, passed away Wednesday, Aug. 12, 2009, at Owensboro Medical Health System. She was born Nov. 19, 1928, to the late Harlan L. Robinson and Ruth Quinn Robinson. She was a lifelong member of the Beaver Dam Baptist Church, where she was active for many years in Sunday school serving as class secretary. She also served for many years as a volunteer election official during numerous local elections, and she worked for BB&S Florist in Beaver Dam for more than 30 years. She was preceded in death by her husband James B. "Buddy" Reid; her son James B. Reid Jr.; her brother, Bert Robinson; and her sister, Gertrude Tomerlin.

Survivors include a son, John Reid of Georgetown; her daughter-in-law, Nancy Reid-Brown of Georgetown; two grandchildren, Shannon Reid Shepherd (Jason) and Jack Reid (Susan); and five great-grandchildren, Jackson Shepherd, James Shepherd, Lexie Shepherd, Riley Shepherd and Taylor Reid, all of Georgetown.

Funeral services will be held at 2 p.m. Saturday at William L. Danks Funeral Home in Beaver Dam, with the Rev. Glenn Armstrong officiating. Burial will be in Reid Cemetery in Rockport, Ky. Visitation will be from 5 to 8 p.m. today and after 9 a.m. Saturday at the funeral home.

For a more detailed write-up and a picture of Gladys, please click on the following link.



Gladys Robinson Reid

>

Marjorie Elder started working for the big General Electric Tube Plant in Owensboro soon after graduating from high school in Rockport, Kentucky in 1947. A short time later she married Duane "Buckie " Stewart. Buckie got a good job with Peabody Coal Company, Ken Mine and worked a few years. The itch for "Construction Work" got to him and Margie followed Buckie to Detroit and other parts of the country. Several years of living away from family and friends in Rockport was enough for the traveling pair and they decided to come back to Kentucky. For more information and a picture of Margie,please visit the following web page.



Marjorie Elder Stewart



Martha Rains was another one of those Rockport High School Students that just seemed to disappear after her class graduated from high school. Martha was on schedule to graduate from Rockport in 1947, but for some reason, was not in the graduating class. I do not know much about Martha and will tell you more that I have facts about. I think that Martha was a brother to Nick Rains and they lived with their mother in a house behind the Rockport Baptist Church. Nick Rains was an older brother, and he stayed in the Rockport Area until his mother died. Nick was another one of the older Rockport residents that always just seemed to be around for the generation that I grew up with. His mother was a sweet old lady, the custodian for the Baptist Church, and always seemed to be present anytime the Church doors were open. She and I were "Good Buddies" and she would tell me about Nick and a daughter. I can't remember ever seeing the daughter and I am most certain that daughter was Martha. I will update this paragraph if and when more information becomes available.

Anona Kimmel graduated from Rockport High School in 1947. I would guess that she was a member of the Kimmel families that lived on the Ceralvo Road. I can remember some of the Kimmel's or at least the name Kimmel, but I do not remember Anona. I will add more to this paragraph if I can obtain any more information.

Jane O'Brien was the daughter of Mr. and Mrs. Clarence O'Brien and a 1947 Rockport High School Graduate. They lived next to the school and she probably had less distance to travel to get to school that about anyone else. She was from a large family and it seems that there was an O'Brien in school at Rockport from the early forties until the last year of school in 1966. To view a current picture and a more complete write-up on Jane, please click on the following link.



Jane O'Brien



---
The current music MIDI file being played is "Third Man Theme". As I was writing this page, I kept thinking about the tune that I wanted. I decided on the tune, but then have not been able to find it on the big old web. "Move It On Over" by Hank Williams was one of his first big hits and it came out in 1947. It made it to number four in the charts, but I have looked and look and just have not found the tune in a Midi file. I will continue to look and will replace this tune when I can download this old Hank Williams oldie. Hope you enjoyed.

See you......
jrd
---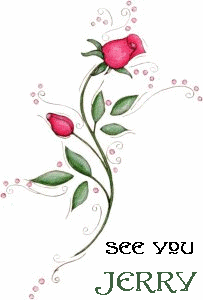 Click on Rose to reply.