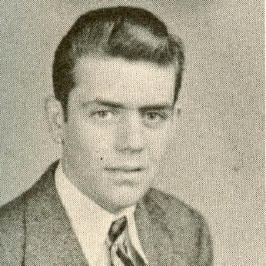 Phillip Harvey Maple.
1928-1988

Phillip Maple, like a lot of his fellow classmates, joined the Army after graduating from high school. After basic training, he was sent to Germany where he spent most of his service time. He returned and went to work for The Tennessee Valley Authority. He worked for TVA for only a short period of time. He was offered a job closer to home with International Harvester in Evansville, IN and moved to Evansville where he spent the rest of his working years. Phillip died in 1988 before he was able to retire.

Phillip Maple married Pauline Dunn, from Sacramento. Their family consisted of a boy and a girl and they raised their family in Evansville.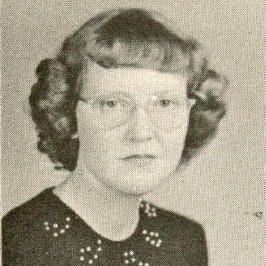 Betty Jean Maddox.
1930-2004

Betty Jean was a 1948 Graduate of Rockport High School. Her dream was to become a nurse and she entered the field of nursing at the old Owensboro-Daviess County Hospital School of Nursing. In 1955 her dream became a reality and she received her degree in nursing. She later received two master's degrees from Western Kentucky University and had dedicated more than 30 years as both a nurse and a nursing instructor.

Betty Jean married Louis Franklin Blackford in 1957 and that marriage endured until Betty's death in January 12, 2004. The marriage, of more than 46 years, produced a son and a daughter. Betty was living in Calhoun at the time of her death. She was n active member of the Calhoun Baptist Church.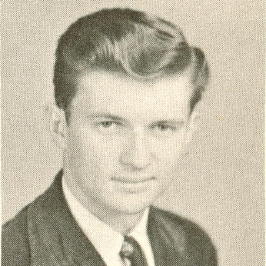 Hugh Dowden Bailey Jr.
1930-2001

Hugh (H D) Bailey entered college at Western Kentucky Teachers College in Bowling Green after graduating from Rockport High School. With a BS degree in hand, H D entered service as a Lieutenant. During his twenty-five years of service, in the Air Force, he graduated from the military War College and then received a Masters Degree from Rensselear Polytechnic Institute. H D was stationed at Cheyenne Mountain, Hawaii, Newfoundland and other locations World Wide before he retired as a Lieutenant Colonel. After retiring, he was assistant director of computing services at West Virginia University until a second retirement in 1990. He was an avid stamp and coin collector, American Military Historian and ardent sports fan. He was a member of Rockport Baptist Church.

H D married Mary Whitworth of Colorado Springs. The marriage produced two daughters. From the marriage of his two daughters, three grandsons were added to the family. Hugh passed away unexpectedly on September 12, 2001. He was a native of Morgantown, West Virginia when he died and funeral arrangements and burial were in Morgantown.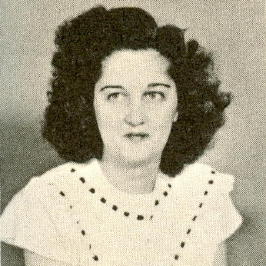 Audrey Maddox.

Audrey Maddox was the daughter of Mr. and Mrs. Otis Maddox. Audrey was born in Detroit, Michigan, but the family moved back to Ohio County in time for Audrey to start to school at Rockport.

Audrey married Thomas Jesse soon after her graduation from Rockport High School in 1948. Thomas attended Rockport High School, but did not graduate. After marriage, he worked for the Ford Garage in Beaver Dam for several years and eventually was able to go to work for one of the local coal companies. This marriage produced one son and there may have been more children. The son, Tommy, has just completed a brick house on the old Thomas Jesse Home Place.

Information is a little sketchy. I will update when more information becomes available.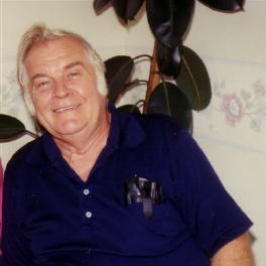 Freeman Lloyd Jones.

Following write-up was supplied by Mrs. Freeman Jones. Thanks Annie, for the info and the picture.

Freeman Jones lives in a small town outside of Dallas. He and his wife, Annie, enjoys living on a small farm with cattle and goats. He is retired from management of wood products factories. He and Annie enjoy fishing on the farm. They are active in the church, he is a deacon and teaches a Sunday School class. Freeman has two children and four grandchildren; two grandsons are serving in the military.

1501 Shinn Circle, Farmersville, Texas 75442. 972-784-8496

Please edit if you like. Thank you for thinking of Freeman, he will be unable to attend any more events, but he would love to hear from anyone. I am a novice with a computer, if you do not get the attachment, please let me know. Thanks.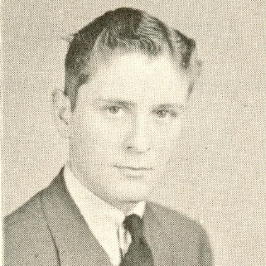 George Herbert Akins.

George Akins was a wonderful freehand artist in school. He followed his dreams and at one time was in Detroit. Further information is not available at this time. Would appreciate any help that anyone could offer. Updates will be forthcoming as they become available.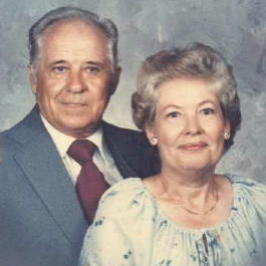 Jewel Lorene Robinson.

Lorene is pictured above with her husband and lifelong companion, Carl Fulkerson.

Lorene Robinson married Carl Fulkerson after High School. She was a 1948 graduate of Rockport. Not sure of their earlier married life, but they settled in the Echols Community near the old #19 School site and near where her dad had a grocery store. They loved to travel and one of their hobbies was to pick up rocks from each place they visited. These rocks were brought back to their home place and then used in the construction of their house. They raised their family there and continued their retirement, in the house of memories, a lot of those memories coming from the rocks brought back from their travels. Their family consisted of three boys and one girl. There are several grandchildren. Carl passed away several years after a wonderful retirement life. Lorene continues to make her home at the old home place.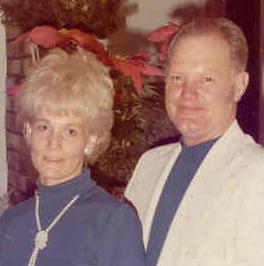 James Richard Barnard.
1929-1980

James is pictured above with his wife Lelia.

James graduated from Rockport in 1948 and soon afterward married Lelia Fulkerson. Seems as if for years, in this time frame, there was not very many good jobs available locally, and Jimmy and Lelia went to Louisville. After working at different jobs and for different companies, Jim and Lelia ended up owning a "Building Contracting Company". The company flourished as houses and other buildings were in demand. Jimmy died unexpectedly in 1980, prior to retirement.

This marriage produced twin sons and a daughter. There are several grandchildren. Lelia remarried and in the last year or so lost her second husband. There were no children from this marriage. Most of the family members still live in the Louisville area.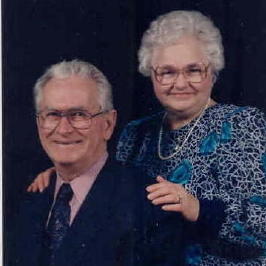 Ruth Harper Benton.

Picture of Ruth and Paul supplied by Hilma. Some of the write-up info was supplied by Betty Harper. Thanks you two.

Ruth Harper Benton was a 1948 Rockport High School graduate. She married Paul Benton prior to her high school graduation. Paul and his brother Frank were born and raised in the Echols community and I think attended Rockport School at one time. A younger sister, Anna Benton graduated from Rockport High School in 1950. I knew Frank, but not Paul. The two brothers may have finished their schooling at McHenry or Beaver Dam. Paul served in the Armed Forces and probably in the World War II time frame. After completing his service requirement, he returned to Ohio County.

Ruth is the daughter of Mr. and Mrs. Frank Harper. She has two brothers, L. H. Harper of Echols, and Gene Harper of Muhlenberg County. Gene died a few months back. Mr. and Mrs. Harper lived in Rockport for most of their retirement life. At one time, they lived next door to me. I knew them well and went to school with L. H. I never knew Gene. Ruth left Rockport soon after she graduated from high school.

Ruth Harper married Paul Benton on June 14th, 1947. Ruth graduated from High School one year later. You have heard about the work situation in Ohio County in the late forties and fifties. Well, it was the same old story for Ruth and Paul and they moved to Hammond, Indiana after she graduated. Paul got a good job with the "Railroad" and this young couple settled in the Hammond area and proceeded to raise their family in Indiana. They have four children, Don, Frank, Robin and Randy. All live up north except Frank, He teaches here in Ohio County and is Pastor at Mount Carmel. When Paul retired, Ruth and Paul returned to Ohio County and moved to Hartford.

Written on 5/18/07.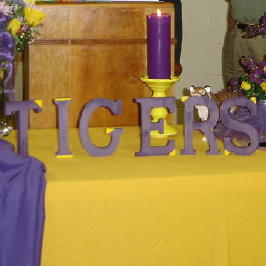 A Rockport Tiger.

The "Old Tiger" has gotten old like some of the rest of us. Guess that "Old" is only in the mind of the beholder, as the Tiger will be around as long as there is anybody with the memory to remind them of the times, Good and Bad, of a once proud and wonderful school. Long live the Tiger.